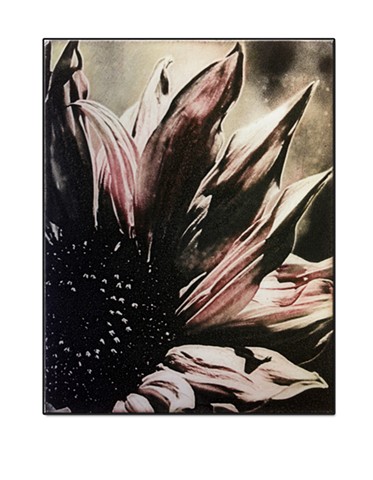 Sunflower II E/V
Photo Etching
22.5" X 15"
© 2020 All Rights Reserved
Hedwig M. Heerschop
Dutch-American Hedwig M. Heerschop is a master photographer, educator, printmaker, and curator who lives and works in Santa Cruz, California. She completed her Master of Fine Arts/Photography at San José State University, California.
Hedwig works with alternative photographic processes, historic 19th century printing techniques; Gumbichromate, VanDyke, and Cyanotype. She assisted in workshops with Brian Taylor, Dan Estabrook, Holly Roberts, Dan Burkholder, and Harold Davis.
Her work has been exhibited nationally and internationally in solo and group exhibitions, including Breaking Boundaries, in Pingyao, China and Made in Holland in Naarden, The Netherlands. Her work resides in private collections in the USA and Europe.
Currently, Hedwig is working with the Photopolymer Intaglio technique creating beautiful photo intaglio prints. She is a member of the Printmakers At The Tannery, Santa Cruz, CA. She divides her time working as Exhibit Coordinator at Pajaro Valley Arts in Watsonville, CA, and as a Photographer and Printmaker in Santa Cruz, CA.
Current Exhibits
Juried Exhibit
Panoply of Prints
Juror: Jimin Lee, Printmaker and UC Santa Cruz Art Professor
March 17 - April 15, 2017
Santa Cruz Art League, Santa Cruz Califiornia
Monterey Peninsula College Printmakers Club
Members' Exhibit
A Decade of Prints: Work by the MPC Printmakers
April 7 - April 30, 2017
Felix Kulpa Gallery & Sculpture Garden, Santa Cruz, California
Upcoming Members' Exhibits
Color !
June 7 - July 23, 2017
Pajaro Valley Arts Gallery, Watsonville, California
Mi Casa es Tu Casa Day of the Dead Celebration
October 18 - December 10, 2017
Pajaro Valley Arts Gallery, Watsonville, California